Basic Tips for Good Health

ďEvery human being is the author of his own health or disease.Ē
Sivananda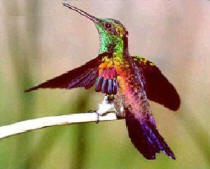 Hummingbird - Symbol of Good Health

* Drink a lot of water

Drink as much water as you can. Take a bottle with you wherever you go, even more so if you drink coffee and/or alcohol and engage in intense physical activity. Drinking a glass before eating will make you feel ďfullĒ faster.


* Avoid excessive alcohol consumption

Recent studies have shown that a glass of wine or one drink a day (two for men) can help protect against heart disease. However, more than that, especially on a regular basis, can cause health problems such as liver and kidney disease.


* Quit smoking

I donít want to scare you here if you are a smoker, but I will anyway. Fact: Tobacco is the only consumer product known to kill half of its users. Donít be one of them! Smoking is the single most preventable cause of disease and death in the US. One-fifth of death from heart disease and one-third of all cancer deaths are caused by smoking, and research has shown that it can also complicate diabetes. Give up just one cigaretteÖthe next one!


* See your doctor

Ö..Not only for treatment when you are sick, but get regular check-ups for prevention, including blood pressure, cholesterol, etc. The goal is to find out whether something is out of balance before it becomes a health problem. Unfortunately, our entire health care system is based on treating health problems, rather than trying to prevent them in the first place. But you can certainly make the individual decision for yourself to put more emphasis on prevention and living a healthy lifestyle.


* Take care of your teeth

Studies have shown that there is a direct connection between the health and condition of your teeth and gums and your overall health. So take good care of your teeth: brush and floss regularly and have dental check-ups.


* Smile more and laugh often

Considering that it takes a larger amount of facial muscles to frown rather than to smile, why not take the easy way out: smile more and laugh often--itís part of your positive mental outlook. As a side effect, you will notice that you are attracting other positive people to you.

* Move more

Increase your physical activity in your daily life any way you can: from yard work to using stairs instead of the elevator, donít miss an opportunity to move, and make it fun.


* Reduce stress

As upward of 80% of all diseases are directly linked to stress and our inability to cope with it, finding ways to deal with it is, next to quitting smoking, the single best thing you can do to improve your health. Spend 30 minutes or so a day to make an appointment with ďyourselfĒ and do things you enjoy: take a walk in the park, read an inspiring book, listen to beautiful music, have lunch with a friend, get a massage, facial, manicure, meditate. Avoid negativity and negative people if you can, and think generally positive thoughts. You will start reaping the benefits instantly.