Promoting Physical Activity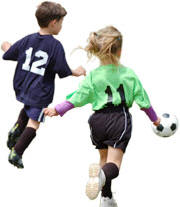 Experts suggest that kids have at least 60 minutes of physical activity each day. So make it a family affair! There are a lot of fun ways to keep moving:


Have ďactiveĒ weekends

Take a hiking trip, go on a bike ride or roller skating, go to the zoo and walk around or go to the park and play ball.


Participate in household chores

Have your kids help with household chores that keep them moving: vacuuming, mowing the lawn, washing the car.


Walks for charity

Participate in charity walks (or bike rides) with them or take them to the gym with you. If you're not a member, why not join one?


Take a class

Have them take classes like self defense, dance, swim or any other activity they enjoy.


Join a team

Let them join a basketball, soccer, baseball, football, or field hockey team.


After-school programs

Have them participate in after-school programs or join a neighborhood center for activities.


Limit other activities

Limit activities like watching TV, playing computer games, etc.


Most of all, be a good role model. Just the simple fact that your son or daughter sees you engaged in various forms of physical activity makes them want to emulate you and be part of the fun!

<![if !supportLineBreakNewLine]><![endif]>American Heart Association www.americanheart.org
Kidsource Online www.kidsource.com
American Alliance for Health, Physical Education, Recreation and Dance www.aahperd.org
Kids Games www.gameskidsplay.net
Wilderdom www.wilderdom.com
WeCan! Ways to Enhance Children's Activity and Nutrition www.nhlbi.nih.gov<![if !supportLineBreakNewLine]>
<![endif]>