Eat Right!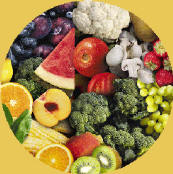 Eat lots of different fruit and vegetables

Fruit and vegetables are good for you. Eat them at least five times a day. You can add them to your meals like mixing a banana or strawberries with your cereal, fixing a smoothie with low-fat milk or yogurt and any fresh or frozen fruit, drink orange juice with your lunch, eat an apple for a snack and eat a few carrots for another.


Cut down on soda

Soda and other sugary drinks are not good for you. They have a lot of sugar in them, no nutritional value and are high in calories. Replace them with water (add fruit extract for flavor) and low-fat milk whenever you can.


Stay away from vending machines

Most of the items in vending machines are high in calories and have lots of sugar or salt in them. Neither is good for your body. Instead eat healthy snacks at home or pack and take them with you:

* Fruit
* Low-fat yogurt
* Dried fruit and nut mix
* Pretzels or rice cakes
* Whole-grain crackers (with peanut butter)
* Fruit smoothie (with low-fat milk or yogurt and fruit)


Suggest healthy food for the shopping list

Help with putting the shopping list together and suggest healthy food you like.


When going to a fast food joint

Even when you go to a fast food joint, you can choose healthy food instead of high-calorie, high-fat food. Next time, try a sub, fruit or a wrap instead of a burger and fries.


School lunch

Pick food you know is healthy. Always choose vegetables and fruit with your meal and drink water or low-fat milk; or,


Pack your lunch

You can also brown-bag your lunch and help prepare it. Then you can choose from a variety of healthy foods.


Get information

Visit websites (together with your parents or by yourself) to find information about eating right. You can find some links on this site.


And always remember: to be a ďFit and Healthy Kid,Ē be physically active and eat right. Itís good for your body and youíll feel great!


www.kidnetic.com
www.verbnow.com
www.kidshealth.org/teen
www.bam.gov
www.surfnetkids.com
www.hhs.gov/kids