Seniors and Physical Activity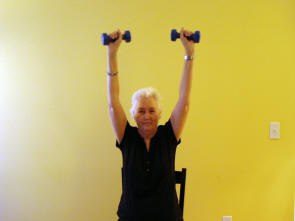 Let me just take a few minutes to tell you about the importance of physical exercise (including cardio and strength training with weights) not only in our younger years, but especially when we age.

It is estimated that unless we exercise our muscles regularly, we can lose five to seven pounds of muscle tissue each decade of our adult lives. Add this to the amount of fat we gain because of a slow-down in our metabolism as we get older and you can see it becoming a real health problem.

The benefits of building and maintaining muscle mass through strength training are plenty: from a better posture, a decrease in lower back pain, a faster metabolism, to the prevention of falls because of stronger ankle joints and leg muscles, to better being able to deal with everyday tasks like carrying groceries.

General health benefits of regular physical exercise include:


* Reducing the risk of coronary heart disease and diabetes

* Lowering of high blood pressure and reducing related health risks

* Relieving arthritis pain by promoting greater flexibility

* Increasing bone density, potentially preventing osteoporosis


In addition, exercising regularly will boost your self confidence, improve your appearance and lessen the threat of depression.

Because of these benefits, The American College of Sports Medicine and the American Heart Association have released new guidelines encouraging Americans of any age to strength-train at least twice a week on top of a regular cardio workout (brisk walk, swimming, treadmill, stationary bike) of at least 30 minutes on most days of the week in order to build and maintain a healthy body.

It is recommended that adults of any age perform one to three sets of eight to twelve repetitions each of eight to ten exercises using appropriate weight for their individual fitness level in order to exercise all major muscle groups (arms, shoulders, chest, back, upper legs and lower legs).

In order to maintain a healthy weight and be physically fit at any age, it is important that the physical exercise routine is used in conjunction with an overall healthy diet.

Before starting any weight loss and exercise program, experts suggest that you consult with your physician.