Establishing Healthy Eating Habits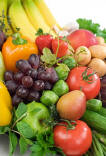 Cut down on soda and other sugary drinks

They often account for more than 500 empty calories per day. Replace them with water (add fruit extracts like cherry or banana for flavor) and low-fat milk as much as possible.


Make it fun

Fix fun-looking healthy foods like cutting fruit in various shapes; instead of regular pancakes, fix ďMickey MouseĒ pancakes (whole wheat pancake mix, one big pancake and two small ones for the ears, and put sliced apples in the mixture.)


Eat together

Have dinner together at the kitchen or dining table and serve everybody the same healthy food.


Pay attention to looks

Substitute healthy items for not-so-healthy ones in dishes kids know and like (whole wheat tortilla with chicken, shredded lettuce, diced tomatoes, low-fat ranch dressing and low-fat shredded cheese).


Generous praise

Be generous with praise when your child is eating healthy food.


Get kids involved

Kids are more likely to eat healthy food when they are part of the process. Get them involved in putting the shopping list together and have them suggest healthy foods they like to substitute for foods you want to eliminate. Make a game out of ďpick one.Ē If they can come up with five healthy foods, they can pick one ďnot-so-healthyĒ snack. Also, whenever possible, get kids involved in meal preparation.


Get information

Depending on the age, visit various websites providing nutritional information specifically for kids, either with them or let them do it themselves.


Learn to read labels

Make it a fun exercise to look at labels and see whatís in the food to determine whether itís good for you or not. Tip: If there are a lot of ingredients that are difficult to pronounce for your child (or for you for that matter)--like monosodium glutamate--itís probably not healthy.


Spend a lot of time in the produce section

When going shopping with your child, spend a lot of time in the produce section to familiarize him or her with the variety of fruits and vegetables available.


Healthy snacks

Always have healthy snacks available, so your child does not grab a high-calorie item just because a healthy low-calorie snack is not available. Here are some healthy snack ideas:

* fruit
* unsalted nuts
* low-fat yogurt
* dried fruit and nut mix
* rice cakes, pretzels, whole grain crackers
* homemade fruit smoothie (with low-fat milk or yogurt and frozen or fresh fruit)


Brown-bag lunch

Research has shown that kids like crunchy things they can dip and prefer a wrap to a sandwich. A healthy lunch combination could be: sliced apple with peanut butter to dip apple in, whole wheat crackers with low-fat cheese and orange juice, or a fruit cup and a tortilla wrap with chicken and low-fat milk.


Healthy meal preparation

Cook with less fat. Instead of frying, try to bake, roast and steam food as much as possible.


Three meals a day

Make sure your child eats three meals a day, always including breakfast. In addition, your child can have one or two healthy snacks.


Food variety is the key

Offer a variety of foods: The guidelines recommended by the US Department of Health and Human Services and the US Department of Agriculture encourage Americans over two years of age to eat a variety of nutrient-dense foods such as fruit, vegetables, fat-free or low-fat milk and milk products, lean meats, poultry, fish, beans, eggs, nuts, and whole grains. Also recommended is a diet low in saturated fats, trans fats, cholesterol, salt (sodium) and added sugar.

Tip: When offering new and unfamiliar food to your child, it may take several attempts before he or she will eat it, so keep trying. It helps sometimes when adding new food to items they already know and like.


Inform child care provider

If you work outside of the home and have a child care provider, make sure they know about your childís nutritional needs.


A little is okay

Donít be too strict: If your child eats a healthy diet and a variety of nutritious food, itís okay from time to time to eat some fast food or a sweet/salty snack as long as it does not become a habit.


Dietary guidelines for Americans USDA & DHHS, 2005 www.healthierus.gov/dietaryguidelines
American Academy of Pediatrics www.aap.org/parents.html
The American Dietetic Association www.eatright.org
Food & Nutrition Information Center USDA www.nal.usda.gov/fnic
International Food Information Council http://ific.org
The National Network for Childcare www.nncc.org
Kids & Eating Disorders, Empowered Parents www.empoweredparents.com