Healthy Eating Habits
One should eat to live, not live to eat. -- Franklin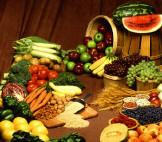 You are on your way to creating healthy eating habits as part of your lifestyle change to benefit you for a lifetime, not a ďdietĒ you will abandon after a few months. Therefore, it is important to make the changes gradually and at your own pace. Start with one habit you deem to be unhealthy (i.e. drinking too much soda) and change it to a healthier approach (cut amount of soda in half, switch to diet-drinks, substitute with water) and give it a little time until your new approach becomes a habit. Then add another change from an unhealthy to healthy habit (i.e. substituting potato chips with pretzels) and give it enough time for it to become a habit as well and so on.

The following are simple rules and suggestions which have withstood the test of time and should be part of a sensible approach to achieving and maintaining a healthy weight:

* Making sure that you always have healthy food choices handy is essential for your success, so that you are not tempted to grab a high-calorie food item just because you donít have a healthy snack available when youíre hungry.

* Eat five meals a day: breakfast, mid-morning snack, lunch, mid-afternoon snack, dinner. Switch lunch and dinner according to your lifestyle. Try to not skip a meal, otherwise your body may go into starvation mode and will build up fat.

* Try to stay below a total calorie intake of 1,600 per day.

* To get started right, always have a nutritious breakfast. For most people a perfect breakfast has three components: one serving of a whole-grain carbohydrate, one serving of a dairy or high-calcium food, and one serving of fruit. That adds up to about 300 calories. The following are examples of possible breakfast combinations:

-A granola bar, an apple or pear, and a glass of 2% milk.
-A low-fat muffin, a piece of honeydew melon or cantaloupe, and a low-fat yogurt.
-A slice of whole wheat bread with (sugar-free) jelly, a cup of fat-free yogurt with fresh blueberries.
-A scrambled egg, a multigrain roll, fresh fruit salad, and a cup of 2% milk.
-A bowl of high-fiber, multigrain cereal with strawberries or a peach, and 2% milk.

* Combine low-calorie snacks like rice cake and an apple, or yogurt and some strawberries as your mid-morning or mid-afternoon snack, if you like.

* Taking a multivitamin daily can be beneficial. The best time to take it is in the morning with breakfast.

* You can increase your protein intake by adding protein powder to your milk, smoothie, water, or any other beverage (you can usually find the protein powder in the health food section of your grocery).

* Eat 5-9 servings of fruit and vegetables per day (the ones with the most color are generally the most nutritious). Fruit and vegetables are healthy and low in calories, but remember: The goal is to substitute high-calorie foods with them. Donít just add them to your daily intake as they do have some calories as well. Each of the following is an example of one serving size:

-1cup of leafy greens
-6oz of 100% fruit or vegetable juice
-ľ cup of dried fruit
-Ĺ cup chopped, canned or frozen vegetables
-1 medium piece of fruit

* Drink lots of water throughout the entire day. (Tip: If you drink a glass before eating a meal, it helps you feel full faster). Substitute regular soda, sweet tea or other sugar-sweetened drinks with calorie-free ďdietĒ drinks and water.

* Choose whole grain foods over processed grain products (try to stay away from white foods like white bread, white rice, white pasta, etc.). Get organic food when possible. Add beans (kidney, pinto, black) and lentils to your meals. Use lean meats and remove skin from chicken and turkey. Choose low-fat or fat-free dairy products.

* No time to fix a salad for next dayís lunch? Get veggies etc. (enough for a few salads) already cut up from your grocerís salad bar and a bag or head of lettuce. Add the lettuce fresh every day and you have a great salad in seconds!

* Wrap leftovers in a whole grain tortilla (add shredded lettuce and low-fat cheese if desired) and use for breakfast or lunch the next day.

* Instead of frying your food, try to bake, roast and steam it as much as possible.

* Decrease your portion size and realize that it will take some time until your body gets used to smaller portions, but it will happen over time. Visualize these portion sizes:

-A three-ounce portion of meat, fish or poultry is about the size of a deck of cards.
-A medium apple is about the size of a baseball.
-Ĺ cup of vegetables is about the size of your fist.

Portion sizes in restaurants tend to be larger. Why not take half of it home for lunch the next day; split with a friend; or have a combination of appetizer, soup or salad as your main course?

* Donít worry if you went to a BBQ and sampled a lot of unhealthy food. Itís okay. Just donít do it regularly, and go back to your healthy choices the next day!

* Donít eat your last meal too late, preferably not after 7 pm (and why not take a walk afterwards, as well as after lunch)?

* Make it a family affair. Eat at the kitchen or dining table without being disturbed by TV or other outside influences, serve everybody the same healthy food and eat at a slow pace, as your body needs a little time to recognize that you have eaten and for the hunger feeling to disappear.

* Get a friend involved! Double the fun and motivation!

* This last point is very dear to my heart, as some people are obsessed with numbers. Are you ready for this? STAY AWAY FROM SCALES ! Donít obsess about your weight. What you are doing is building muscle, losing fat, and toning your body. Muscle mass weighs more than fat, so as you are going through this transformation, you sometimes may not see that you are losing fat by weighing yourself, but rather by paying attention to how your clothes fit. If they start to fit looser, and your body starts looking more toned, and you have more energy and feel better, you will have lost weight in the process by doing the right things and you are on your way to a healthier lifestyle!

Ö.. Most of all, make this a positive experience and a pleasant journey!