Lifestyle Change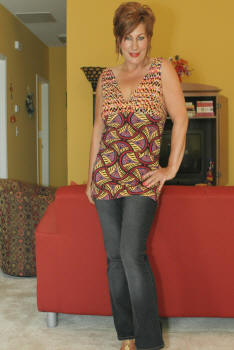 Let me tell you a little secret.

The best ďdietĒ is the ďeat less and exercise more diet.Ē That was the answer a sixty-something man gave to a reporter who asked him on which diet he lost more than fifty pounds. I laughed out loud when hearing his ďdiet secret,Ē but of course, itís true.

While adding more physical activity to your life and eating less of whatís not good for you, you change your unhealthy behavior in the process and your new healthy approach will become a habit and part of your lifestyle. And that is the key to permanent success.

When trying out various diets, people may see temporary results, but often fall back into their old bad habits, and naturally gain the weight back and sometimes more. You probably know people who literally have been on some kind of ďdietĒ all of their lives, and yet are still unhealthy and overweight, maybe even obese.

To live a healthy lifestyle is a mindset and I have emphasized the mind/body connection on this website. Only if your mind and body are working in conjunction with each other, will you be successful. Once you put your mind to it, you will find out very soon, that you change habits you deem to be unhealthy (i.e. drinking too much soda, eating too much junk food, not enough physical activity) automatically, sometimes without giving it a lot of thought or having to force yourself.

The best way to change these unhealthy habits into healthy ones is to do it in small steps, starting with one, like cutting down on the amount of soda, maybe to the point of totally eliminating it, and giving it enough time for it to become a habit, before adding a new small change. Give it enough time. Depending on the person and the habit, sometimes it may take a while. Donít get discouraged! Some bad habits have formed over a long time and were part of your daily life for years, so donít expect them to just disappear overnight without any effort. Be patient and persistent, and remain realistic. And remember: Good things will happen when you put your mind to it!

One thing I want to mention here: While youíre eating more of the good stuff and less of the bad stuff, donít deprive yourself. I for one have a weakness for chocolate (I call it my ďsoul foodĒ). If you like sweets or salty things, eat them! The body does not like to feel deprived and it wants it even more and eventually you overindulge and maybe fall back into eating too much and too often. The key here is to make sensible choices: eat chocolate, but only half of what you normally would eat, and not every day. Eat ice cream, but only a small portion and try one that is lower in calories, etc. Why not trying to substitute sweets like candy, cookies, cakes and ice cream with fruit, yogurt and nuts sometimes. Who knows, you may actually like it.